1882 Brown Back National Currency Price Guide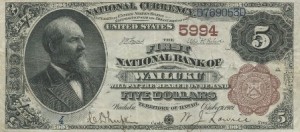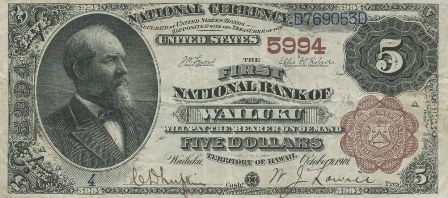 We Buy All 1882 Brown Back National Bank Notes
Printed By National Banks That Opened Between 1882 and 1901
Some Issues Have Browns Seals, Later Issues Have Blue Seals
Each Bill Has A Charter Number Between 1 and 6099
The Serial Number In The Lower Left Area Can Be Important
Issued for $5, $10, $20, $50 & $100 Denominations (see below for examples)
Five Dollar Notes Are The Most Popular, $50s and $100s Are The Rarest
Five Dollar 1882 Bank Note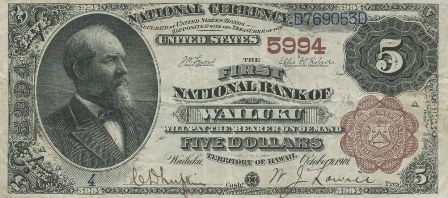 James Garfield is featured on the left hand side of each 1882 $5 national currency note. This type of paper money is a favorite of collectors. The title layout was used with dozens of different fonts and styles. Many collectors focus on the layout style. However, most collectors are still going to just care about the condition, serial number, and the bank of issue.

Ten Dollar 1882 Bank Note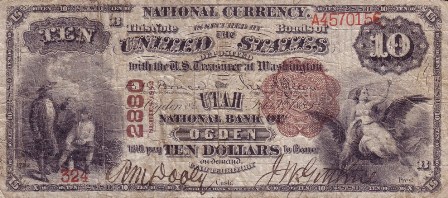 Ten dollar brown backs from the series of 1882 have a design similar to that used by first charter notes. These can have a rounded brown seal with eight points, or a blue seal. The brown seals are almost always more valuable. Notes from small town banks, especially from the South and Western United States, will be the most desirable and valuable.

Twenty Dollar 1882 Bank Note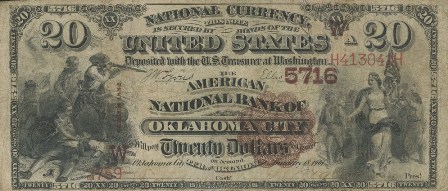 Series of 1882 brown seal national bank notes are attractive and historical, but they are not always the most popular denomination for this type of paper money. Millions were printed and almost 3,000 examples have survived today. Values can be as little as $200 for a heavily circulated and common example. High grade notes from rare banks can be worth $5,000 or more.

Fifty Dollar 1882 Bank Note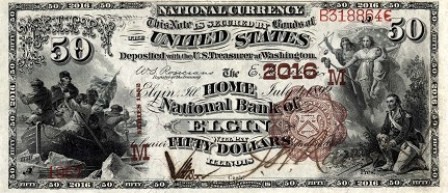 Fifty dollar brown backs from the series of 1882 are very scarce. Very few national banks in the country chose to issue such high denominations of paper money. The notes that were issued didn't trade often at all. It was not uncommon for a bank to redeem most of its higher denominations quicker than other lower bills. Contact us if you need help valuing your $50 brown back.

One Hundred Dollar 1882 Bank Note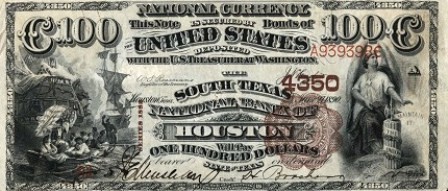 $100 national bank notes printed before 1902 are rare. That rule applies to both 1882 brown backs and 1882 blue seals. Brown backs were printed from 1882 to 1908. Blue seals were issued after 1908 up until 1921. Despite that strange printing range, all bills will have 1882 and another year between 1882 and 1901 printed on them.