1902 Blue Seal Price Guide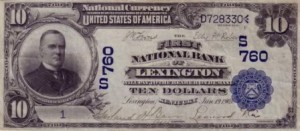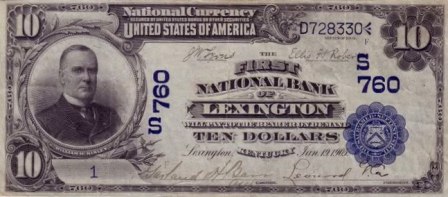 We Buy All 1902 Blue Seal Bank Notes
Printed By Thousands Of National Banks Between 1908 and 1928
Serial #1 Notes (as seen above) Are Especially Collectible
Notes From Small Towns Tend To Be More Valuable Than Big City Issues
Prices Range From Around $50 To Thousands Of Dollars
The 1902 Year Does Not Mean That The Note Was Printed In That Year
Issued for $5, $10, $20, $50 & $100 Denominations (see below for examples)
Five Dollar 1902 Blue Seals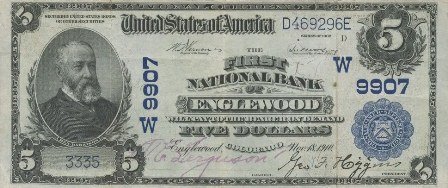 Five dollar blue seals are the lowest denomination from the set. Ben Harrison is on the front of each bill on the left hand side. If the number below Harrison is #1, then you can expect a nice premium for your note. All five dollar bills were printed on sheets of four. Some notes are very common and others are very rare. It all depends on the condition and bank of issue.

Ten Dollar 1902 Blue Seals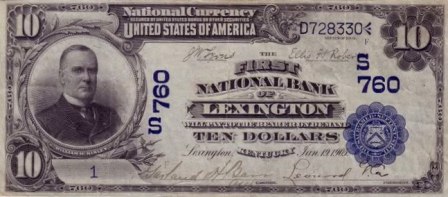 The series of 1902 notes were designed just months after president William McKinley was assassinated. He was honored by being featured on the $10 bank note. This is the most common denomination from the 1902 blue seal set. Despite that, some notes can be very rare. Send us pictures of what you have and we would be happy to tell you what it is worth.

Twenty Dollar 1902 Blue Seals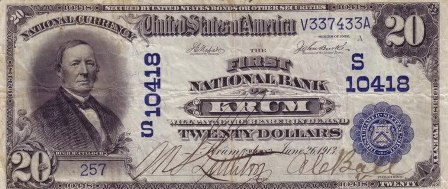 Hugh McCulloch is pictured on the left hand side of all series of 1902 $20 bank notes. He was instrumental in the original conception and implementation of the national banking era. As with any blue seal, $20 notes can be rare or they can be common. You just need to work with an expert to establish the value based on the condition and issuing bank.

Fifty Dollar 1902 Blue Seals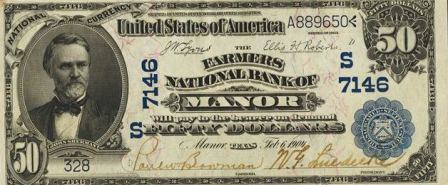 John Sherman is on the front of all series of 1902 $50 blue seals. Unlike earlier fifty dollar national bank notes, the blue seal varieties are fairly common. They were mostly printed by big city banks by the thousands. Circulated examples can be bought for around $750. Notes from rare banks can still be worth thousands of dollars, but those are few and far between.

One Hundred Dollar 1902 Blue Seals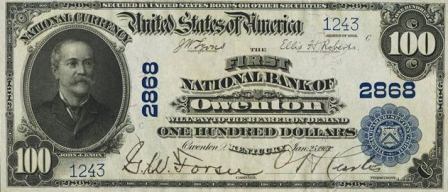 Starting in March 1908 the United States began putting blue seals on all the series of 1902 notes. John Jay continued to be featured on the front of all $100 notes. Unlike red seals, $100 blue seals are actually quite attainable, and usually for under $1,000. However, the value is still based on condition, serial number, and bank of issue.