$500 and $1,000 Bills
Quick Facts
Printed for the Series of 1928, 1934, & 1934A
Can Have Green Seals with Several Different Shades
Regularly Circulated Until the Late 1960s
Serial Numbers Under 100 Sell for a Premium
Star Notes Also Trade for Significant Premiums
Gold Certificate Were Also Printed, but Are Much Rarer
$500 Federal Reserve Note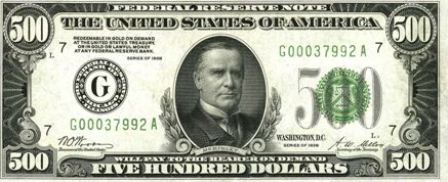 All five hundred dollar bills have a portrait of William McKinley. Most examples sell for around $800. Prices can be higher or lower based on the condition and serial number.
$1,000 Federal Reserve Note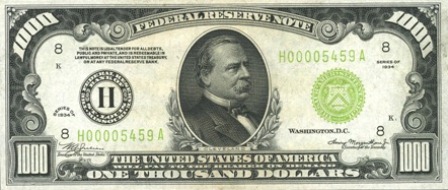 One thousand dollar bills feature a portrait of Grover Cleveland. Typical examples in lightly circulated condition sell for around $1,600. Plenty of factors can make your exact bill worth more or less.
Have questions, or want to sell? Then email us: Info@RareCurrency.com