1902 Red Seal Price Guide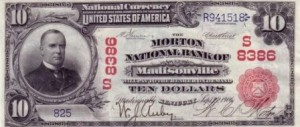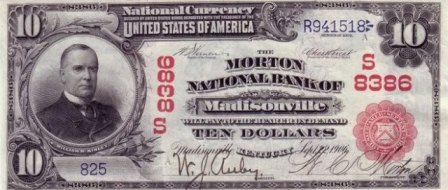 We Buy All 1902 Red Seal Bank Notes
Printed By Thousands Of National Banks Between 1902 and 1908
The Serial Number Below The Portrait Is Important
Notes From Small Towns Tend To Be More Valuable Than Big City Issues
Prices Range From A Few Hundred To Thousands Of Dollars
Issued for $5, $10, $20, $50 & $100 Denominations (see below for examples)
Five Dollar 1902 Red Seals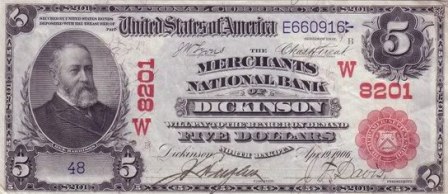 Ben Harrison's portrait was printed on all five dollar red seals. These notes were printed on sheets of four. So the serial number in the bottom left corner was used for at least four different bills. Most banks that printed $5 bills also issued tens and twenties. As with any $5 bill, the value is all based on the condition and bank of issue.

Ten Dollar 1902 Red Seals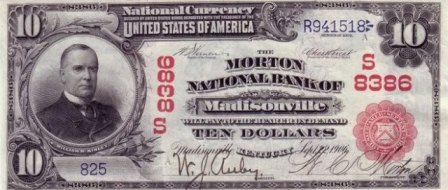 William McKinley is featured on all ten dollar red seal national bank notes. The ten dollar denomination was a favorite of national banks back when these were originally issued. More $10 notes are known to exist today than any other denomination. Contact us with pictures of your specific bill and we can help you find the value.

Twenty Dollar 1902 Red Seals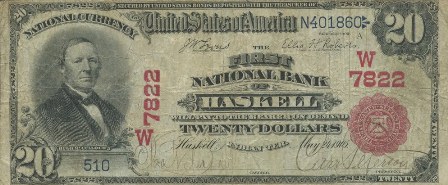 Twenty dollar red seals are actually fairly rare. Unfortunately, they really don't trade for any more money than their $10 counterparts. Series of 1902 $20 bills all have a portrait of Hugh McCulloch on them. As with any national bank note, the value is based purely on the serial number, issuing bank, and condition.

Fifty Dollar 1902 Red Seals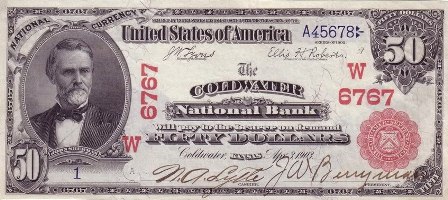 As we have previously established, all $50 national bank notes are rare. Red seals are no exception. Somewhere around 100 are known to exist today. That is a total for all banks in the entire country. The denomination was rarely issued by national banks; so very few still exist. John Sherman is on the front of each note.

One Hundred Dollar 1902 Red Seals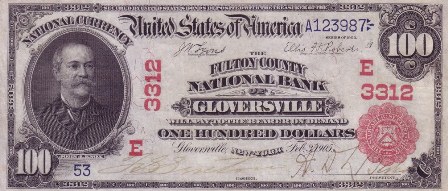 One Hundred dollar red seal bank notes from the series of 1902 are always a favorite among collectors. John Jay is pictured on the front of each bill. High denominations like this were rarely issued. $100 was also a lot of money back in the early 20th century. For those two reasons, notes like this are rare and valuable today.