Bank Name: The Des Moines National Bank of Des Moines
State: IA – Iowa
Charter Number: 2583
Lifetime: Operated 1881 to 1929 | Total Issue – $5,705,880
Series: $50 – 1875 National Banknote
Sheets Printed: 596
Value: Call, Text, or Email For A Quote | Info@RareCurrency.com | 864-430-4020
Basic Design: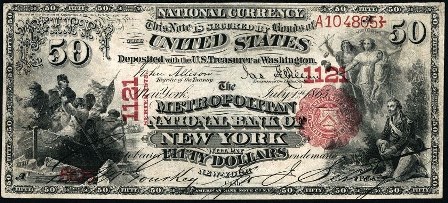 Rarity and Value: This is a very tough denomination to find. Only about 70 are still known to exist. Odds are that not too many more are waiting to be found. These are usually found in Fine condition or worse. You have to remember that paper money was a bit of a hot potato during the time these originally circulated. No one wanted to be holding such a high denomination if it was ever devalued. That is why they are scarce today. Contact us for value information. Don't forget to check the serial number. Number 1 notes always sell for nice premiums.
Current Market Analysis: Iowa is considered to be the birthplace of the national bank note collecting hobby. In fact the only museum dedicated to national currency is located in Iowa. The original dealers supporting our niche numismatic area lived and worked out of Iowa. That means that for almost six decades there have been collectors in Iowa trying to find great rarities from their home state. New and good discoveries from Iowa are few and far between these days. Most long terms collectors feel like they have seen it all before; and many times they are correct. When we think of Iowa, images of pen-signed notes from great town names (Spirit Lake, Hawkeye, Lost Nation, Jewell Junction, etc.) come to mind.
We Are Buyers!!!
We buy all antique paper money issued by The Des Moines National Bank of Des Moines, IA. We can tell you how much your $50 bill is worth. We aren't just dealers. We are also collectors, experts, and appraisers. We have contributed to numerous price guides and are considered specialists in the field of national currency. Contact us via phone or email to get your free appraisal today.