Bank Name: The National Bank of Union County Morganfield
State: KY – Kentucky
Charter Number: 2209
Lifetime: Operated 1874 to 1891 | Total Issue – $391,120
Series: $50 – 1875 National Banknote
Sheets Printed: 586
Value: Call, Text, or Email For A Quote | Info@RareCurrency.com | 864-430-4020
Basic Design: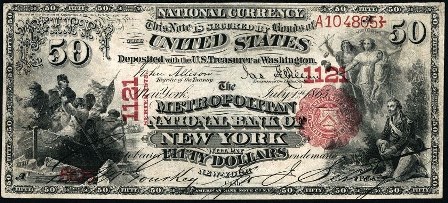 Rarity and Value: This is a very tough denomination to find. Only about 70 are still known to exist. Odds are that not too many more are waiting to be found. These are usually found in Fine condition or worse. You have to remember that paper money was a bit of a hot potato during the time these originally circulated. No one wanted to be holding such a high denomination if it was ever devalued. That is why they are scarce today. Contact us for value information. Don't forget to check the serial number. Number 1 notes always sell for nice premiums.
Current Market Analysis: If you follow the market for national bank notes then you know that it is cyclical. In the 1990's good notes from Kentucky were worth as much money as notes from any state. However, within an 18-month period in the early part of the 21st century the two largest collectors dumped their collections and there was no one else there to prop up prices. To make matters worse, all types of notes from Kentucky are relatively plentiful from first charters to red seals. However, if you study the market then you will see lots of great notes that are still relatively affordable. We personally love all of the fancifully named towns and notes from the old forgotten mining communities.
We Are Buyers!!!
We buy all antique paper money issued by The National Bank of Union County Morganfield, KY. We can tell you how much your $50 bill is worth. We aren't just dealers. We are also collectors, experts, and appraisers. We have contributed to numerous price guides and are considered specialists in the field of national currency. Contact us via phone or email to get your free appraisal today.